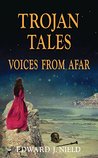 Trojan Tales: Voices from Afar
by
Edward J. Nield
My rating:
2 of 5 stars
I have no doubt that Nield knows the cycle of Troy, and I think he would be a wonderful person to talk about the cycle with. However, if there was ever a book that is just oky, it is this one. It is not a bad book, and it is a story that syncs with the cycle. Yet there are some flaws that are near fatal.
The first flaw is one that many historical novels suffer from - how much modern language to use. Overall all, Nield does a good job, but there are some jars - for instance the use of carriages. The second flaw is that Andromache functions more as someone that things happen to as opposed to someone who does things. This is not surprising considering the time period, but she is so blamless and loved that at times it gets a little annoying (and unexicting if you know the cycle). There is also a bit too much of dislike and rivarly with other women that is bit annoying.
There is also bit too many adjectives -and everyone seems to glide.
Yet, the novel does show a deep understanding and knowledge of the story.
View all my reviews